Last Updated on June 7, 2022 by admin
Imagine having a home without a kitchen or a stove to make your meal. You will not only be sad, but hungry as well. The kitchen is said to be one of the most crucial parts of the home. No matter the structure of your home, a kitchen is needed for food, coffee, and other things. Whether you have a brick kitchen or a camper kitchen, a stove and sink are crucial.
Now, talking about a camper van or RV. A sink stove is needed while camping. Getting camper sinks and stoves is not so difficult. There are even guidelines on how to go about a DIY RV sink and stove combo. Before installing a camper van sink, take note of the amount of space you have. This is because RVs are meant to be compact. There is no luxury of walls with cupboards so your things should be nicely arranged.
Camper vans come with a small kitchen space that has few drawers. If you do not have a technique with which you can save space, be ready for a rowdy kitchen. A stove and sink for a camper van are the two most important appliances needed in your kitchen. Some of these combos have lids that cover the appliances when they're not in use. This lid keeps the kitchen tidy at all times. It also serves as a countertop or an island if you may.
Since you have limited space in your camper van, you might be looking for the best camper sinks and stoves to buy. Your needs were put into consideration when looking at the lists of RV sink stove combos there are. Things like faucets, water filters, size, plumbing, and pumps were considered as well. Now we would discuss some of the camper van sinks and stoves you should look out for.
Top Camper/RV Sink and Stove Combos
Looking at this stove, you would automatically be pleased with its big stove. The sink stove combo was made to look like a box. The purpose of this combo is to bring comfort, you can tell from its price and size. This GR-903 has a small sink but the stove is big. The overall size of this combination is not too large. Its length is 536mm or 21.10 inches so you can say it's quite portable.
For your safety and extra countertop, the GR-903 comes with a glass lid. You can put the lid down whenever the stove is not in use. Be sure to turn off the hob before letting the lid down. This glass lid is long thanks to the length of the combination. The model is a bit bland so you won't get any sort of special feature.
Some of the advantages of buying the sink stove combo include the small size, big stove, average sink size, and glass lid. Some of the disadvantages include Its high price, the basic style, and one stove feature. If you do not mind the cons and simplicity of this combo, you should go for it.
With a camper van, it is expected that you focus on getting a compact stove and sinks. Being lucky is getting a sink stove combination. This is a very small combo that comes with a length of 520mm which equals 20.47 inches. The stove that comes with the combo is a small stove but the sink size is reasonable. You might be disappointed at the inequality between the sink and stove size, but the developer chose this style.
If you want just one kitchen stove and a fairly big sink, this is the best bet for you. The GR-600L gives a good amount of space in your kitchen. This combination also comes with a glass lid which extends the compatibility of the stove and sink. With the lid down you have enough space to chop ingredients, serve your food, and tidy the kitchen.
You get some style and homely feeling with this combo thanks to its asymmetrical design. The combo is quite cheap so you would end up saving some extra cash. The only con that was found in the size of the stove.
Judging by its look, you can tell that the combo is quite interesting. The stove and sink are bigger than most combinations. The creator presents users with a classic style and excellent features. Loyalheartdy 19 comes with an amazing length of 775mm which is approximately 30.51 inches.
There are two stoves on the combination, which is what everyone looks out for. The sink is large enough to accommodate kitchen activities. It also has a glass lid that allows you to do some kitchen work and enjoy some countertop space.
Although the combo doesn't have that asymmetrical design that portrays class, you would have a good time using it. Everyone wants an RV sink stove combo that fits perfectly with their camper van. However, you should go for this perfect set if you have a larger space. The only con that was found in its basic design. It's not a con if you're not looking at design.
This works perfectly for those with smaller space in their camper vans. The design is very practical and simple. You do not need to go through much stress to install the unit in your RV. It comes with a large sink and two stoves. Since users always look out for the number of stoves and size of sinks. Despite the size of its sink, it remains compact.
Along with all the features that come with the unit, the fold-down glass lid is something that cannot be left out. Make sure to put down the glass lid when it is not in use. This way you get more space to prepare meals and do other things. The lid is heat resistant and safe, it can withstand pressure and heat.
The design might put you off if you're looking for a unit with a great design. The practicality of this combo makes the design basic. It is not homely, and it doesn't come with any special features. The price is one of its cons. For such a basic design, users would pay more.
If you have enough space in your kitchen area and you're looking towards filling it up, this combo is the one for you. The GR-215 gives you a homely feeling thanks to its size. It was designed with exotic style while keeping in mind the space available. For a beautiful combo, it is worth the try.
The GR-215 is one of the units that were created for caravans with enough space. It has a big sink with two stoves so you can cook two things at a time. The combo comes with a length of 730mm which approximates 28 inches. You won't feel tired using the unit thanks to its length. The combo also has a back tempered glass that offers an atom of luxury.
You wouldn't have any additional space when you buy this because it has no glass lid. So not only does it occupy space, it doesn't provide extra space for users. Once you put this unit in place, the space used cannot be gotten back. Think about the space available before getting this.
Naturally, you should expect a pricey tag on the combo due to its features. The design is aesthetic and well organized. You would get a homely feeling with GR-215.
This is one of the combos that campers enjoy. It has two-burner stoves, so users will be thrilled. The sink is not so large but enough to do the job. There is a flush glass lid at the top that helps in saving space when the unit is not in use.
With the glass lid, you can use the space in preparing coffee, meals, or chopping things. It comes with equipped LP-Gas-fueled burner that has an electric ignition. The flame burns faster than most stoves, thanks to its JetFlow technology.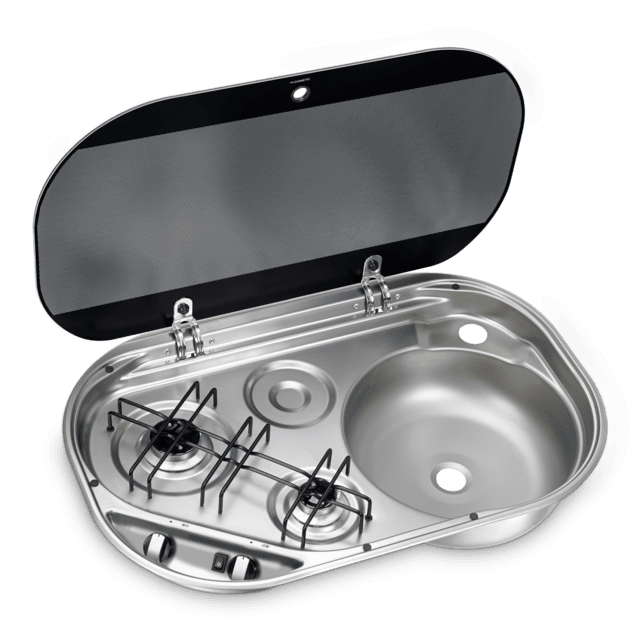 Conclusion
Whether you go for single sinks or stoves, your aim would still be fulfilled. But what is the purpose of getting single appliances when you can get two in one unit? Camper sinks and stoves help in conserving space, especially if it comes as a combo. Every product mentioned above is trusted, so take your time in reviewing them.
Did you enjoy our article on the best camper sinks and stoves you can find? Will you apply this knowledge when you get an RV? If you enjoyed this article, please share your thoughts with us and share them with your friend.